Pool Area
Our blue Venetian glass tiled pool is complemented by a tile rendered dolphin at its center and surrounded by a patio decorated with carved rock sculpture animals and potted palms, and furnished with several tables, chairs, chez lounges and umbrellas; a shade tarp is added in the summer months to keep the naturally heated pool a refreshing temperature and offer extra shade. A second wood deck and BBQ area for sunset viewing are planned. There are water mats and flotation toys available for guests and a pool shower area.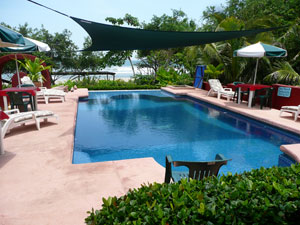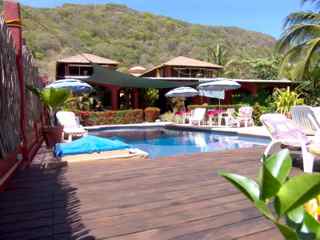 Pool Area, Seen from Yoga Deck
We have recently expanded the yoga deck (Picture shows the older, smaller deck, we will have pictures of the new deck soon), where a medium-sized group can do their practice while looking out over the ocean.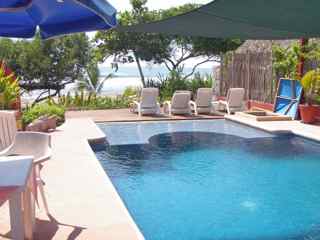 Beach View, from the Pool / Deck